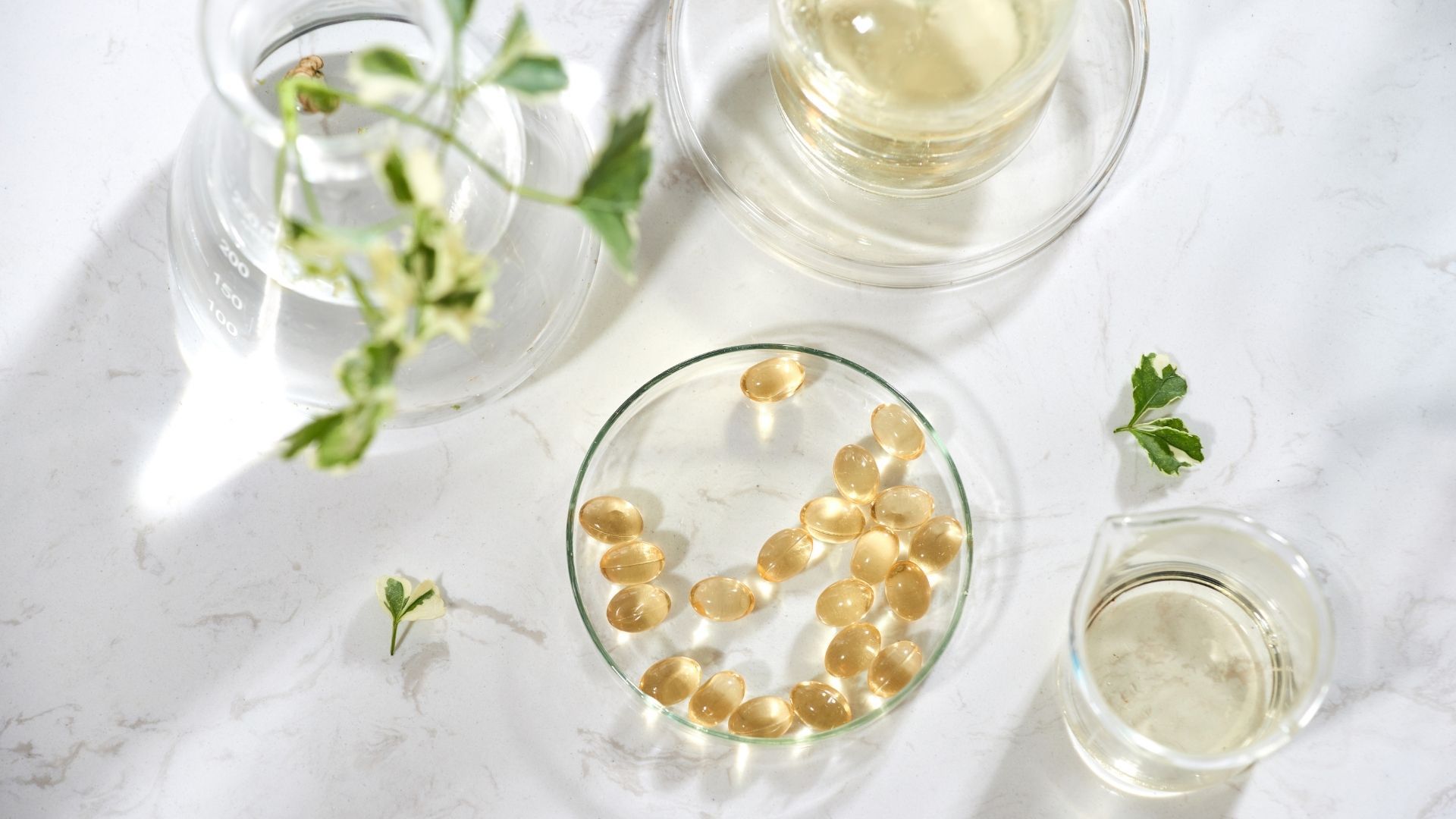 Five Supplement Ingredient Trends Set to Dominate 2021

This article was originally published on Natural Products Insider
Demand for quality dietary supplements has been rising steadily for years but exploded in 2020. The Covid-19 pandemic spurred millions to seek out supplements that support immune function1 and propelled a sea change in the way consumers think about pre-emptively safeguarding their health. New reporting indicates that a full 86 percent of Americans are now taking dietary supplements, but they're not all seeking the same products. While immune support matters across demographics, different generations are also in search of supplements that address specific wellness concerns. Baby Boomers want products that promote strong bones, healthy aging and cognitive function, while millennials are seeking natural ways to increase mental stamina, combat anxiety and reduce the impact of stress.
So how can brands appeal to a newly engaged post-pandemic audience, while still addressing the distinct needs of disparate target demographics? By providing them with the trending new ingredients they're seeking. As a supplement manufacturer, I'm hearing the word on the street from clients and witnessing these product trends daily. Here's my assessment of the top five ingredient types that will dominate the supplement space in 2021:
Nootropics
Nootropics (a broad class of compounds that support brain health and function) have major cross-demographic appeal. Baby Boomers are focused on preventing cognitive decline and maintaining maximum brain health as they age. Antioxidant and anti-inflammatory ingredients like Omega-3 acids,2 as well as vitamins C, D and B12, can offer neuroprotective support, and even improve cognitive performance.3 At the same time, stressed-out Generation Xers and millennials trying to keep up with the hyper-demanding modern workplace want help with concentration and mental stamina. Mushrooms,4 terpenes and vitamins that support better brain function are in high demand. Ingredients like l-theanine, beta-pinene, or ginseng, which can increase mental clarity, productivity, and focus, also address this need.
The takeaway: Nootropics are hot and just getting hotter. Neuroprotective and neuro-enhancing supplement ingredients appeal to everyone—who doesn't want a healthier, better-functioning brain?
Mushrooms
Fungi are more than delicious pizza toppings or burger substitutes—they've played an essential role in traditional Chinese medicine for millennia, and now science has affirmed their medicinal properties. Certain mushrooms have been shown to boost energy, as well as support immune function and cognitive function.4,5 Other mushrooms are anti-inflammatory, and many are packed with antioxidants that fight aging.6,7 Consumers of all ages are excited about powders and extracts derived from lion's mane, cordyceps, reishi and chaga. Formulations that include mushrooms appeal to the public's growing desire for natural, botanically based products.
Terpenes
As cannabis legalization has spread like wildfire, so has the conversation around terpenes and their effects on human health. Cannabis is famously chock-full of terpenes, but these naturally occurring plant compounds are present in almost all plants, and are commonly used in numerous household products and beverages. Terpenes, which give plants their scent, are the primary constituent of essential oils—and while aromatherapy may sound like hippie nonsense, the science around these sweet-smelling compounds is very real.8 Pinene, for example, has been shown to be anti-inflammatory and analgesic, as well as nootropic.9 Linalool (the primary terpene in lavender) has a significant effect on the nervous system, including sedative, anxiety-reducing, and pain-relieving benefits.10,11,12 If current research is any indication, we've only just begun to tap into the therapeutic potential of terpenes13—and their popularity in the cannabis space is swiftly spreading into the mainstream.
Emerging cannabinoids
Consumers' embrace of CBD has been an amazing success story—market researchers estimate that the U.S. CBD market could reach US$16.8 billion by 2025 (Brightfield Group). But there are more than 100 other cannabinoids still waiting to be explored. Unlike CBD, emerging or minor cannabinoids only occur in trace amounts in the hemp plant, which historically made research and production challenging. Now, however, we have new methods of sourcing minor cannabinoids in large quantities, and a growing body of research shows they hold great promise for a variety of health and wellness applications.14,15 Because they lack the regulatory complications of THC and CBD, emerging cannabinoids like CBG (cannabigerol), CBC (cannabichromene), and CBN (cannabinol) are already appearing in over-the-counter supplements. Product makers should keep a close eye on these compounds, any one of which could potentially become the next CBD.
Delta 8 THC
Delta 8 is a legal (for now) cannabinoid that can be derived from hemp. While studies of its health and wellness uses are limited, preliminary research indicates it has anti-inflammatory properties, and may provide neuroprotection and anti-nausea activity as well.16,17,18 Delta 8 definitely occupies edgy territory—like its federally illegal cousin Delta 9 THC, Delta 8 is psychoactive, which may not appeal to all demographics. Its regulatory future also remains uncertain—but Green Market Report says Delta 8 demand is booming, and a January 2021 Hemp Benchmarks report found that the compound was the single fastest growing product in the hemp sector. THC's psychoactive properties often steal focus from its many important medical applications19—2021 may reveal whether Delta 8 can reproduce some of those therapeutic applications and remain legal.
Today's consumers have high expectations of the dietary supplements they purchase—but they are also willing to invest in effective formulations that support their immune systems, incorporate cutting-edge ingredients and use trending botanical compounds. Smart brands will closely track these new ingredient trends and strive to create products that meet the demands of a newly health-conscious, post-pandemic public.
References
1. Hamulka J et al. "Dietary Supplements during COVID-19 Outbreak. Results of Google Trends Analysis Supported by PLifeCOVID-19 Online Studies." Nutrients. 2020 Dec 27;13(1):54.
2. Anderson EJ et al. "Do Fish Oil Omega-3 Fatty Acids Enhance Antioxidant Capacity and Mitochondrial Fatty Acid Oxidation in Human Atrial Myocardium via PPARγ Activation?" Antioxid Redox Signal. 2014 Sep 10; 21(8): 1156–1163.
3. Bauer I et al. "Omega-3 supplementation improves cognition and modifies brain activation in young adults." Hum Psychopharmacol. 2014 Mar;29(2):133-44.
4. Sabaratnam B et al. "Neuronal Health – Can Culinary and Medicinal Mushrooms Help?" J Tradit Complement Med. 2013 Jan-Mar; 3(1): 62–68.
5. Dai X et al. "Consuming Lentinula edodes (Shiitake) Mushrooms Daily Improves Human Immunity: A Randomized Dietary Intervention in Healthy Young Adults." J Am Coll Nutr. 2015;34(6):478-87.
6. Elsayed E et al. "Mushrooms: A Potential Natural Source of Anti-Inflammatory Compounds for Medical Applications." Mediators Inflamm. 2014; 2014: 805841.
7. Kalaras MD et al. "Mushrooms: A rich source of the antioxidants ergothioneine and glutathione." Food Chem. 2017 Oct 15;233:429-433.
8. Cox-Georgian D et al. "Therapeutic and Medicinal Uses of Terpenes." Medicinal Plants. 2019 Nov 12 : 333–359.
9. Salehi B et al. "Therapeutic Potential of α- and β-Pinene: A Miracle Gift of Nature." Biomolecules. 2019 Nov; 9(11): 738.
10. Koulivand PH et al. "Lavender and the Nervous System." Evid Based Complement Alternat Med. 2013; 2013: 681304.
11. Harada H et al. "Linalool Odor-Induced Anxiolytic Effects in Mice." Front Behav Neurosci. 2018; 12: 241.
12. Batista PA et al. "The antinociceptive effect of (-)-linalool in models of chronic inflammatory and neuropathic hypersensitivity in mice." J Pain. 2010 Nov;11(11):1222-9.
13. Cho KS et al. "Terpenes from Forests and Human Health." Toxicol Res. 2017 Apr; 33(2): 97–106.
14. Zagzoog A et al. "In vitro and in vivo pharmacological activity of minor cannabinoids isolated from Cannabis sativa." Sci Rep. 2020 Nov 23;10(1):20405.
15. Abioye A et al. "Δ9-Tetrahydrocannabivarin (THCV): a commentary on potential therapeutic benefit for the management of obesity and diabetes." J Cannabis Res. 2020 Jan 31;2(1):6.
16. Thapa D et al. "The Cannabinoids Δ8THC, CBD, and HU-308 Act via Distinct Receptors to Reduce Corneal Pain and Inflammation." Cannabis Cannabinoid Res. 2018; 3(1): 11–20.
17. Tripathi HL et al. "Effects of cannabinoids on levels of acetylcholine and choline and on turnover rate of acetylcholine in various regions of the mouse brain." Alcohol Drug Res. 1987;7(5-6):525-32.
18. Abrahamov A et al. "An efficient new cannabinoid antiemetic in pediatric oncology." Life Sci. 1995;56(23-24):2097-102.
19. Stith SS et al. "The Association between Cannabis Product Characteristics and Symptom Relief." Sci Rep. 2019;9(2712).